Information about the different types of senior care, what they involve and how they could be a good choice for you or a loved one in need of care.
No matter how healthy you are as you age, you may require senior care at some point. Anybody can be affected by a condition like dementia or a stroke, and anybody can struggle with mobility as they age.
As the UK ages and the care industry expands to meet demand, there are a number of different options for each and every person for the right later life care.
If you are thinking about later life care it is likely that you have many questions. We may not be able to answer all of your questions immediately but we can certainly answer most of them, and point you in the right direction for even more information. With later life care, the more you know the more informed your choice will be.
What Are My Senior Care Options?
The main types of care available in the UK are companion care, domiciliary care, sheltered housing, nursing home care, residential care homes and live-in care. Sheltered housing is where you live independently but with easy connection to help and support when you need it. Residential care homes are where you live as a resident and have basic care, food and help provided, and with nursing care it is the same but with nursing care. With live-in care a professional carer lives with you in your home and provides bespoke 24/7 care and support.
How Do I Pay For Care?
Paying for care is not a one-size-fits-all process. There are lots of different factors that affect how you will pay for care including: your savings, preferences, the type of care you want, how much your family's inheritance affects your decision, your suitability for help and the care you need. It is a good idea to do research about the financial side of paying for care. We recommend you:
Make use of free information available here on The Live-in Care Hub and also at WHICH, Age UK and Citizens Advice.
Speak to your GP
Speak to social services if you already have a social worker
Speak to your family
Speak to an Independent Financial Adviser (IFA)
Which Type Of Care Is Right For Me?
Only research and discussion with your family on your part can help you decide. It depends on many factors and it makes sense to get as much information as possible before you make a decision.
Is Live-in Care Cheaper Than Residential Care?
It really does depend on your circumstances. For example: a couple who both require basic care will likely find live-in care cheaper than two residential care places. Live-in care can be an affordable alternative to residential care and for most people it is preferable.
What Are The Care Options For Those Living With Dementia?
The choices are likely to be the same as if you did not have dementia. Live-in carers can provide specialist care and there are dementia-focused care homes. The only area you may find your choices reduced is with sheltered accommodation, depending on how advanced your condition is.
Bespoke Senior Care Focusing On Your Care Needs
It is no secret that the population of the UK is getting older. Age UK statistics tell us that:
The amount of people aged over 75 will double in the next 30 years
Nearly 1 in 5 people in the UK will live to see their 100th birthday
The number of people aged over 85 in the UK will double within the next 23 years
The percentage of people aged over 60 will rise from over 24% to over 29% in 2035
Naturally, the more that people age, the more people require care, and so there is a constant strain on the care industry. Elderly care homes can't handle the demand placed on them and the NHS are struggling even more because they have nowhere to place recovered elderly patients in need of a place of care to return to.
This is where live-in care comes in for those people who will be self-funding their senior care.
The Live-in Care Hub found during an independent study that over 90% of people would prefer not to go into residential care if they have the choice. So we already know most people want a viable alternative to elderly care homes. We also know, according to many live in care agencies, that costs can compare favourably to the cost of residential care, especially when it comes to a couple who both require care. Other key benefits include:
Enabling a person to stay in their own home
Enabling a person to stay with their beloved pet (they often have to be separated when moving into an elderly care home)
Enabling a person to stay with their loved one (again, they have to be separated when moving into a care home)
Avoiding loneliness and poor nutrition because of the high amount of 1-to-1 care
Ensuring a person stays active
Even better is the fact that live-in care can provide completely bespoke senior care tailored to your needs, so unlike the common 'one-size-fits-all' care provided in elderly care homes, the 1-to-1 care provided by a live-in care is totally bespoke.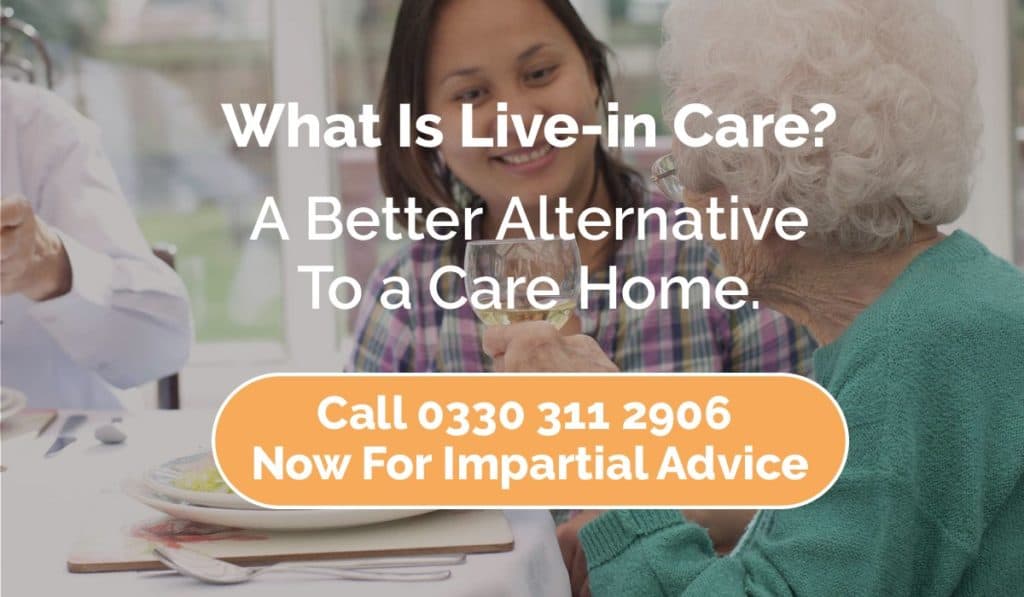 Live-in Care: A Completely Bespoke Plan Based On Your Needs
Live-in care ensures that the basic needs of your loved one are met, with services like help with washing and dressing, eating and being mobile. The key difference, even with these basic services is that they are in the comfort and familiarity of their own home. Services are also provided with the unique needs of the client in mind. The food is based around their preferences. The routine is tailored to their preferences. There is room for a late night bacon sandwich and a movie if that is what the client feels like, or a walk to a cafe for tea and cake.
So already, the services are totally unique and stand out from those provided within an elderly care home. As well as these high-quality services, you can add additional services such as:
Help with cleaning
Gardening
Pet care
Help with physiotherapy
Specialist care for conditions like dementia or Parkinsons
It all depends on your needs, your budget and how you want the live-in carer to work in the life of your loved one. Speaking to the care agency about your needs when you get in touch with them will help you get an idea of what is available and what the different costs will be. It is important to know that regardless of the services provided, your loved one will always be treated as an individual and their care will always be bespoke to their needs.
The Next Step
There are numerous resources available for you and the first step to arranging the care you want and need is to take advantage of those resources. Find out as much as you can and get all the information you need to make a truly informed decision. You deserve a good quality of life in your senior years, and the key to getting that is making the right choice about senior care.