What Is Live In Care? A Better Alternative
A Care Home Alternative Where You Stay In Your Own Home
Live in care – also called 24hr home care – is an alternative to a residential care home enabling elderly people to stay in their own home but with the same professional, round the clock care you would expect from a care home.
The Benefits of Live-in Care
Live-in care means having a fully trained carer living with you in your own home to meet all your needs: help with washing, dressing, medication, preparing and eating food; help with chores, gardening and pet care. Perhaps most importantly a live in carer provides physical and emotional support that allows you to remain in your own home, in familiar surroundings and continuing with hobbies and social events just like you always have done.
Quite simply, live in care helps elderly people remain independent, in their own home, with all the security of professional help close at hand 24/7.
When asked about this type of  home care many people describe it as the support they need to live how they want to, every day. That means going to bed and getting up when you want, eating what you want, when you want  – even the simple pleasure of choosing what to wear.
For anyone worried about their future care and worried about having to go into a home, finding out about live in care could put your mind at ease.
Live in care allows elderly people to stay in their own home - but it's more than just that.
Here's a summary of the benefits of live-in care:
Personal Care
Washing
Dressing
Personal grooming
Medication
Ensuring medication is always taken when necessary
Changing dressings
Domestic Support
Chores, shopping
Preparing and cooking food
Gardening
Physical Support

Visits to the hospital
Visits to Doctor/Dentist
Helping attend social events
Day trips
Flexible help to match your needs
Emotional Support
Companionship: sharing meals, playing games, watching TV
Social interaction – simply chatting
The security of knowing someone is always there
Providing Choice
Staying in your own home environment
Deciding how you live your life in your later years
Activities, hobbies and interests you enjoy
Family and friends are free to visit when they want
Favourite foods
Here at The Live-in Care Hub we provide impartial help and advice for anyone who needs care. You can call us on 0330 311 2906.
By choosing this life-enhancing alternative to a residential care home you can receive dedicated one-to-one support and help from a trained carer  – live-in care is elderly care at its best.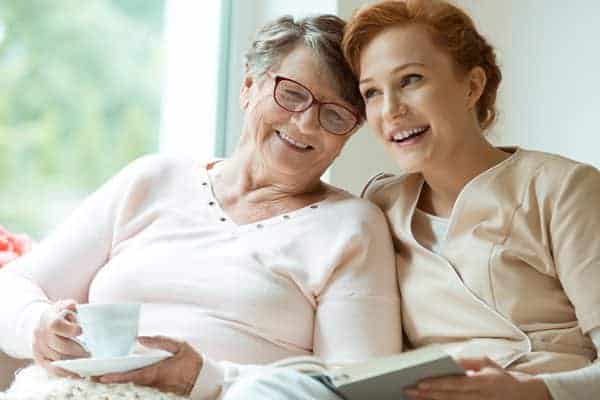 Dedicated one-to-one care by a trained professional 24/7.
It is only natural that you or a loved one have concerns when planning care as you get older – it is something very few of us have experience of in our own lives.
That's where the Live-in Care Hub can help. We can help you select the right care provider and the right carer – one who will have the training and support of a care provider that is a member of the United Kingdom Homecare Association. All of these care providers share a vision to enlighten everyone about the benefits of live-in care and guarantee the very highest standards of care.
We have the experience to know how to match up carers with clients but also the impartiality to give genuinely unbiased advice because we are a not-for-profit organisation. We can help you find a carer who has the skills and experience to provide your specific care needs but also who will be a good fit in terms of personality and temperament.
We find that live in carers tend to exceed the expectations of the people they look after – they have the time to provide dedicated one-to-one care and companionship, unlike many carers in residential homes who have strict limits on how much time they can spend with each person.
Elderly care that exceeds expectations
There are so many benefits to live in care that we feel everyone should know that it is an option for them. There is more than one option when you become ill or frail – it doesn't mean going into a home – something so many of us don't wish to do but think we have no choice. There is always a choice.
Elderly care that you deserve
What services do live-in carers provide?
Most home carers are very flexible in terms of the services they provide and their duties can be tailored to specific needs. This is usually agreed at the outset but carers and care providers recognise that needs change so there is always room to be flexible.  Here are just some of the tasks that a dedicated carer would typically provide:
Buying food and other shopping
Preparing and cooking meals
Light housework
Laundry and ironing
Administering medication
Picking up prescriptions
Making doctor's appointments
Driving you to appointments
Help washing and dressing
Getting to the toilet or continence help
Getting in and out of bed
Looking after a pet
Trips out and about
Senior care that makes a difference to your life
There is much more that a live in carer can provide than is typically associated with senior care. Of course, they provide the necessary personal care but it is the emotional support, the one-to-one time and the time to just sit and chat that can make all the difference.
Naturally, there are some older people with complex medical conditions: Dementia or Parkinson's disease, say, but again with the right carer and the right nursing support it is still possible to have in-home care. In fact, in the case of dementia, the additional social interaction available to those with care provided at home has actually been shown to improve quality of life. A carer working with a client in their own home can either organise nursing care or may themselves have the right clinical skills to provide the medical assistance needed.
Care that enables elderly people to remain independent
Find the right live-in carer
Even for those who are ill or frail, a live-in carer and a care program tailored to your needs means you can continue living your life in the way you want, as far as is possible; with the security of dedicated one-to-one support 24/7. That means security for you and peace of mind for your family.
But it is still a big step to have someone come and live in your home. Apart from the practicalities of having enough room to accommodate a carer there may also be concerns about how you will feel emotionally having someone new living with you. Those concerns are perfectly natural and you should talk them through with friends and family first.
When you feel ready to take the next step and talk to the professionals about care you can either talk directly to one of the excellent care providers who are part of the Live-in Care Hub or call us for help and advice on 0330 311 2906
We have helped many people find the right live-in carer for them – everyone is different and every carer is different so there will be someone right for you. All of the care providers who are members of the Live-in Care Hub are experts in understanding each client, their interests, likes, dislikes; and experts in finding the carer that best suits your personality and lifestyle.
Why Choose Live-in Care?
There are any number of reasons why you might want to stay in your own home as you age and all of them are understandable.
There are also many reasons why someone doesn't want to go into a care home – again all perfectly understandable. You should never feel pressured to move into a care home or feel it is your only option.
As we've explained there is another, better alternative to a care home and that's live-in care.
We could list all the advantages and disadvantages of care homes but sometimes it just comes down to an instinctive desire to stay in your own home – and that is possible for almost everyone. Recent research in our Better At Home Report shows that 97% of people would rather stay at home if they became frail or unwell so you're not alone in feeling that way.
Better Quality Care
After dedicating a lifetime to your family you deserve the best quality of care in old age. Sadly, families are often dispersed geographically or unable to care for older relatives because they work full-time; so you may have to seek care from the professionals. Whatever type of care you choose remember that everyone receiving elderly care should expect the following:
Safety
You should always feel safe with your carer(s), expect them to have the relevant skills and experience, and to be well-supported so they can provide high quality care.
Consideration
Your opinions and personal preferences are important and should be treated as such. Carers should always treat you with respect and consideration.
Quality of Life
Older people are individuals and should be cared for as such. It matters what you wear, how your hair is done, what you eat and what you do for entertainment. These are some of the things that contribute to a good quality of life.
Elderly care options can be overwhelming but the Live-in Care Hub is here to help you make the best decision for you so get in touch either by email on hello@liveincarehub.co.uk or just call us on 0330 311 2906 for expert advice.