As we get older, we need to carefully consider our living arrangements and what makes us feel happy and protected. Sadly, as we revealed in our Better At Home Report, approximately two million people in the UK are forced to put their dog or cat to sleep when moving into a care home because pets are not allowed. This can be heart-breaking for any pet owner. This is one of the reasons why live-in care has become the most attractive alternative for older people when they need some extra assistance.
Here, we are going to take a look at why pets play such an important role in the lives of older people. If you or an elderly loved-one owns a pet, it really does make sense to consider live-in care so that you can keep your pet.
Important studies show how vital pets are in the lives of older people
A recent study published by the US-based National Poll on Healthy Aging has shown just how important pets are in the lives of older people. For this survey, 2,051 adults participated, with everyone between the age of 50 and 80-years-old. Of those who were surveyed, 88 per cent said that their pets helped them to get more enjoyment out of life. Moreover, 86 per cent have said that their pets have made them feel loved.
The poll, which was sponsored by the University of Michigan and the AARP (previously the American Association of Retired Persons), also reported that 79 per cent of senior pet owners said that their pets helped them to reduce their stress levels.
This is not the only survey that has been carried out showing just how important pets are in the lives of older people.
We know that many older people encounter loneliness on a regular basis. This is worrying because it is connected with degrading health in many ways, including higher stress levels and poor sleep. Therefore, by encouraging seniors to have pets or, at least, giving them access to them could help to enhance their well-being.
Of all of the older people that were surveyed in the National Poll on Healthy Aging and had either poor physical health or lived alone, 72 per cent stated that their pets helped them to deal with the emotional and physical symptoms they experienced.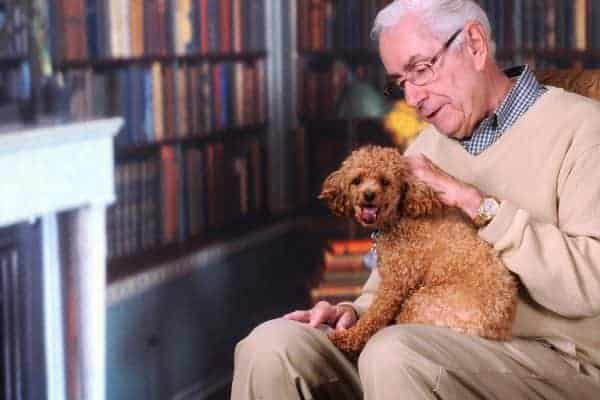 How do pets enrich the lives of older people?
There are a number of different ways that pets can help elderly people. Examples include the following:
Pets help people to stick to a routine
Over half of those surveyed (62 per cent) have stated that caring for their pets helped them to keep a routine. If that was not enough, 73 per cent of the participants have said that their pets have given them a sense of purpose. As you get older, structuring your day becomes even more vital because the depression risk increases when someone does not have a sense of purpose. A person's cognitive abilities can also decline if you do not have anything meaningful to do. Therefore, staying on top of playing, grooming, walking, and feeding a pet can help to keep the mind sharp and fill those empty hours.
Pets can help to ease pain
Not only do pets help seniors to stick to routines but they also help to ease pain as well. Two in five seniors who live alone have said that their pets help to take their minds off any pain they experience. A report in the Journal 'Science' has shown that pet owners who look into their dog's eyes for a minimum of five minutes will get a boost of oxytocin (the feel-good) hormone in the brain.
Pets can help older adults to stay as active as possible
People aged 65-years-old or above should make sure that they get a minimum of 2.5 hours of moderate aerobic exercise per week, with brisk walking being a prime example. Luckily, 78 per cent of dog owners have said their pets have helped them to be more active, and 64 per cent of pet owners overall have also confirmed this.
Pets can help older people to stay social
Aside from everything that we have discussed so far, another huge benefit associated with owning a pet is that it will help you to stay social. Loneliness can be dire for anyone, but it is incredibly common amongst older people. And, it's worrying when you consider the health implications of feeling lonely. For example, did you know that loneliness can increase the chance of a stroke by 32 per cent and the risk of heart disease by 29 per cent? An analysis of 70 studies, which has featured 3.4 million people, has found that individuals experiencing social isolation had a 30 per cent increased risk of dying within the next seven years. However, the good news is that pets can make a significant difference in this regard. In the new survey mentioned earlier, it was revealed that 65 per cent of aging pet owners have stated that their fluffy friends enable them to feel connected with others, which is so important as we get older
Final thoughts…
With this insight into the important role pets play in the lives of older people, you might want to consider how it could affect you, or a loved one if that companionship is taken away. We hope that this has helped you to have a better understanding of why it is important for older people to have companionship in their lives. A dog or other pet can provide you with the company you need.