Live-in carer fees compare favourably with residential care homes, especially for couples. Here, we explain how misconceptions about the price of care could lead to fewer people getting the opportunity to experience better care.
Just four years after they ditched plans for a cap of care costs, the Government have done a U-turn. Under their new plans a limit of £86,000 on care liabilities and a means-test that is more generous will come into effect in October 2023. The new plans will also see a hefty increase in the volume of annual reviews and assessment that will need to take place in the care sector. It is widely expected that over the course of the next three years the plan will deliver around £5.4bn to the adult social care sector.
In conjunction with the cap, the capital limits that apply for care funding should be relaxed so that any individual who has assets, including their home, with a value below £20,000 will need to make contributions to their care from these funds. At the same time those with savings of up to £100,000 will potentially have access to state funding – this amount currently stands at £23,250.
Government's Commitment to elderly care
This all sounds great, especially when considered alongside the Government's pledge to publish a long-awaited white paper that will set out the "once in a generation transformation" that they plan to make to adult social care. This white paper aims to improve choice as well as an access to care and independence for those elderly persons who need support whilst enhancing the quality and variety of care that is available. The current Government are not the first one to have identified that a "home-first" and "personalised care" approach to care should be considered a priority. However, we at the Live-in Care Hub are now calling on them to stop simply talking about person-centred care and take the appropriate action to ensure that everyone involved is able to give serious consideration to an alternative to care homes for those people who need care services later on in life.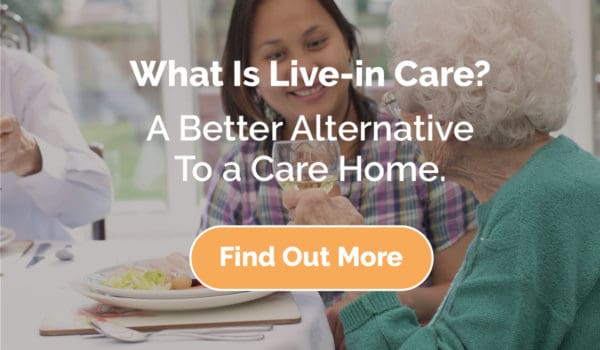 Is the Home First approach really happening?
Whether you are considering the options that are available for your elderly parents or planning for the security of your own future it cannot have escaped your notice that this Government, just like their predecessors, have been saying all the right things about the "home-first" approach but sadly not pushing this as a viable and alternative solution. The sheer cost (or perceived financial burden) of any type of elderly care can deter those who are in need of assistance from putting the necessary measures in place. The idea of live-in care is certainly a highly appealing one that many would love to pursue. However, with so little information being provided about this as a viable alternative, most believe that it is not within their means.
The truth is that when it is costed up the fees for live-in care compare favourably with those for care homes, and this is particularly true for couples. Of course this isn't the most appropriate path for everyone. Nursing homes offer their residents round-the-clock care, something that for many is a necessity – the need for continual supervision is vital for those who put their own lives at risk the longer they continue to live alone.  They also offer a valuable solution to those who need short term care whilst they recover from surgery or illness. Of course all of this comes at a price, and it certainly isn't the cheaper option, however for many it offers them everything that they need – constant medical attention, around-the-clock care and the removal of the need to do any of those household tasks that are proving problematic.
Could you afford live in care?
Live-in care, once thought of as being a luxury that only the wealthy could afford, is surprisingly affordable and for a couple more so. The type of care that is offered will depend on what is needed be it non-medical, home health care or skilled care. There is as little, or as much, help available in-home as people need, allowing them to stay in familiar surroundings for longer, and more importantly in the case of couples, staying together. Elderly care shouldn't be about separating couples, nor should it be a case of one type of care suits all. For many elderly people a little help around the home is all that is needed in the first instance, and whilst this need may increase over time it does mean a relative continuity of the status quo for at least a while. The positive outcome that this can have on mental and cognitive health is financially worth the cost of live-in care for many individuals and knowing they can continue to remain at home whilst altering the type of live-in care they receive, should their circumstances change, offers great peace of mind.
Our most recent report indicates quite clearly that those older people who are cared for in their own homes by professional carers are healthier and safer. This report uses published data as well as proprietary research put together as a result of a collaboration between the University of Kent and the London School of Economics – under the banner of the world-renowned Personal Social Services Research Unit (PSSRU). Much of the data contained within the report is confirmed by research carried out by Alzheimer's UK whose own studies have found that familiar surroundings can help delay the cognitive loss associated with dementia.
In short, choosing a care option that allows a person to remain at home can help with their future health, meaning that the need for more expensive care is delayed. And all whilst allowing for a person's biggest asset – their home – to further appreciate in value. When you put it like that live-in care really is the option that makes the most financial sense for many people.
Our Better At Home Report is available to view or download here.
Find out more about paying for care here.