As elderly loved ones and parents reach their later years, it's often the responsibility of their family members to care for them because of the rising costs of care homes. Although loved deeply, further pressures of distance and time constraints can make it difficult for relatives to provide the necessary level of support they need to live safely in their own home, a key indicator of someone's independence.
At the same time, you become aware of their concerns about losing their independence as they begin to rely on others more and more for their daily routine. These feelings of dependency often lead to anxiety for all concerned. While your elderly relative may become more reclusive as they shy away from asking for help, you lie awake at night worrying about a parent now living alone.
Falls and Fragility
In 2015, nearly 65,000 people aged 60+ in the UK had a hip fracture (the most common injury for older people who have suffered a fall), with about 7% of these people dying within 30 days, and one third after 12 months. In fact, 13 people died from having a fall every day in 2016.
Despite this, a study by Public Health England in 2016 noted that men can now expect to live for an additional 19 years at age 65 and 12 years at 75. Women can expect to live for an additional 21 years at age 65 and 13 years at 75.
Essentially, people are living for longer and remaining in their homes, without a safety net to maintain their well-being. However, experts suggest the majority of falls could be prevented with some fairly modest changes to their lifestyle and home, allowing your loved ones to maintain their independence.
Making Changes at Home
First of all, is there adequate lighting around their home, especially on the stairs? Encourage them not to keep their curtains closed during the day and to have a bedside lamp and torch to hand during the night. Walking around in the dark should be heavily discouraged.
It goes without saying that keeping hallways and stairs free of clutter is a must, while trailing wires and wrinkled or fraying carpets are also a trip hazard and should be tucked away or replaced. Going one step further, non-slip mats under rugs are recommended, as are non-slip bath and shower mats (bathroom handrails would also be a welcome addition).
Their footwear also shouldn't be overlooked. Walking around their home in socks or tights is a recipe for disaster. Why not buy your loved one a nice pair of slippers with a good grip on the sole? Ideally a pair that fastens up to make sure they fit properly.
Did you know that 60-year old eyes need three times more light than 20-year old eyes? Find out when your loved one last had an eye test and if it wasn't within the last year, help them book one. The same goes for their glasses if they need them – check their prescription is correct. Glasses fitted with bifocal or varifocal lenses can make objects and surfaces appear closer than they really are, which is compounded by an out-of-date prescription.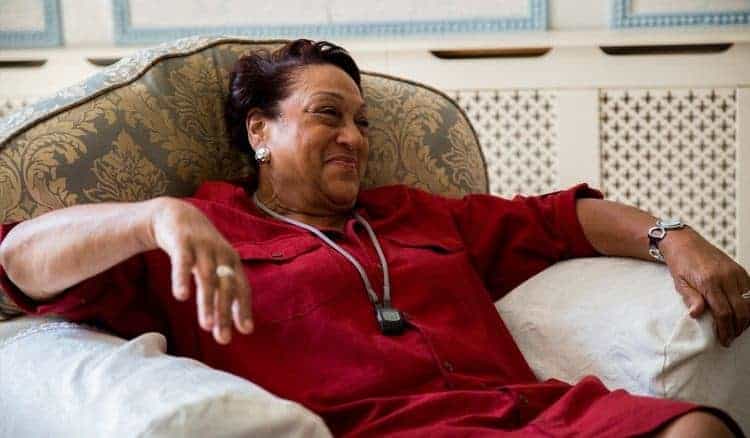 Reducing the Risk
Between the ages of 50 and 70, we lose about 30% of our muscle strength, so encourage your loved one to partake in regular physical activity. Whether it's gardening, housework, walking (or cycling) to the shops, it only needs to be around 30 minutes of activity, ideally five times a week. If they are walking to the shops to do their shopping, a rucksack is recommended as it's better for their back, and so their vision of the pavement won't be obstructed by the shopping they are carrying. It's also never too late to learn something new – why not take them to a yoga or t'ai chi class?
The fear of a fall can lead to some older people becoming more immobile, remaining sitting down for longer periods, rather than 'risking' getting up and moving about. This is a viscous circle that not only damages their confidence, but also their balance and strength. There are lots of simple exercises to improve balance that they can do from their own home, without any special equipment. Simply standing and sitting several times is a good start, as are toe and heel raises. Stand tall, hold the back of a sturdy kitchen-type chair, or the kitchen sink, raise your heels/toes off the floor and hold for three seconds, then lower with control.
Personal Alarms
A cost-effective way of keeping your older relatives safe at home is a telecare service with a personal alarm. A personal alarm is a lightweight device that can be worn on your wrist or as a pendant necklace that detects when the pendant or wristband alarm button is pressed and alerts a response centre.
A fall sensor can be added to a telecare service and will work alongside the personal alarm unit, using smart algorithms so it only detects serious falls with a heavy impact. This helps eliminate false alarms triggered by bending down, sitting down quickly or even banging an arm against a wall.
When a fall alarm detects the wearer has fallen, the device contacts the telecare response centre and the response team will immediately make contact and speak with the wearer over the two-way speaker in the alarm to assess the situation. Even if unable to speak, the response team will know where they live and will contact keyholders, such as a family member or neighbour, or the emergency services on their behalf.
By helping an elderly loved one live independently you're allowing them to live confidently, in the home they love. Whether that's by making changes to their lifestyle, home or outside support, you can't put a price on the freedom to live on your own terms.