39% of those in residential care and 53.5% in nursing homes NEVER LEAVE THEIR HOME, compared with just 14% who receive live-in care
98% of live-in care clients say the care and support they receive helps them have a better quality of life
97% of live-in care clients do at least some of the things they value and enjoy, despite many being sick, frail and close to the end of life
5% of people in residential care and 11% in nursing homes say they don't do ANYTHING they value or enjoy with their time
Full time care: the costs
Live-in Care is in a similar price bracket to a care home, but can be significantly lower where a couple are cared for together.
Research commissioned by The Live-in Care Hub and published in partnership with the University of Kent and the LSE's joint Personal Social Services Research Unit surveyed price and quality across more than 1,000 residential care and nursing homes.
There is great regional disparity in fees with London and the South East much more expensive than other parts of the country. Live-in care fees have little regional difference and the report found that the average price for 24/7 live-in care for someone with dementia is £1,080 per week.
How does that compare with residential care and nursing homes?
Nationally, a third of nursing homes cost £1,000 a week or more and 10% of care homes cost over £1,000 a week
In the South East, 64% of nursing homes cost £1,000 a week or more
In London, half of all nursing homes cost £1,000 a week or more, and 25% of care homes cost this much
All other things being equal, the study found that excellent live-in care agencies offer the same or better care than residential care homes: they allow their clients to have pets, allow pets to visit, allow their clients to go for a walk when they want, and their clients do not have to move if their condition worsens.
Financing care
Far fewer people than ever before are now eligible for state funding for elderly care so in many cases at least an element of care will need to be privately funded. Whatever type of care is required costs will inevitably add up and it will be expensive.
Only 27% of the population have planned how they would fund potential care yet 75% of people are likely to need care at some point.
A financial benefit of live-in care is that family members may be available to provide additional support to minimise costs. For instance, if family members can help one week out of four, that cuts the cost by a quarter or alternatively help at week-ends. This sort of flexibility is simply not possible in a care home.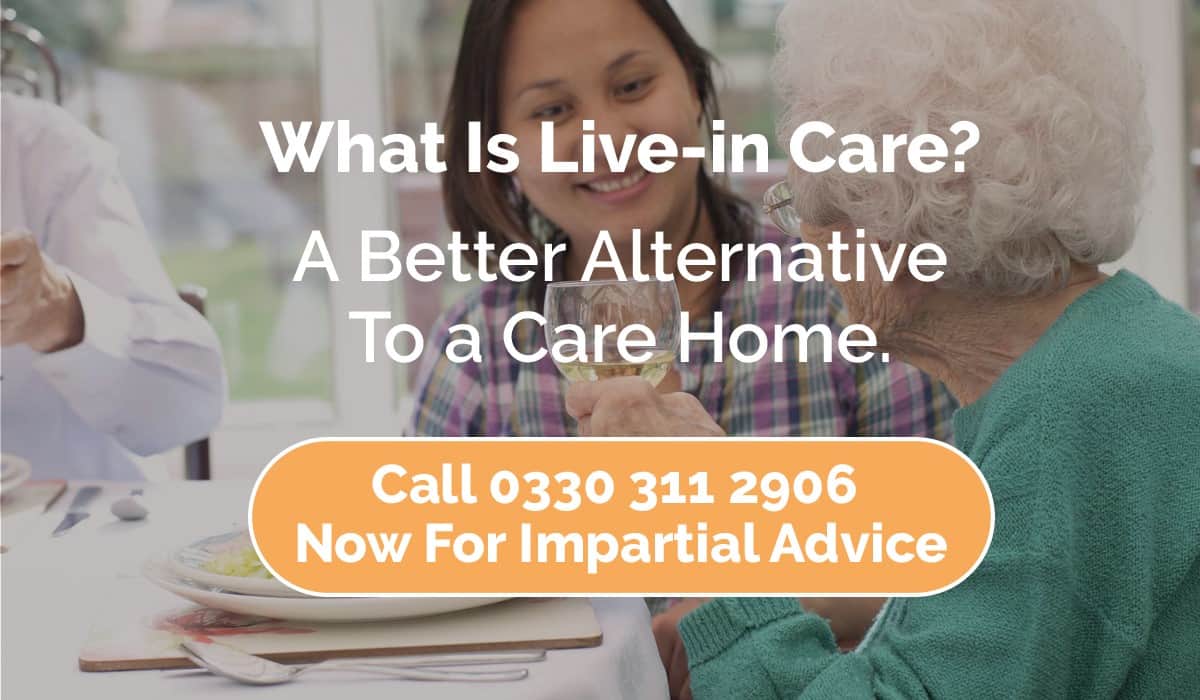 Live-in homecare options
There are two models of live-in homecare: full management and introductory.
With full management, the company providing the care employs and trains its carers and oversees all aspects of care. It suits families who, for instance, live some distance away.
An introductory care service is where agencies do not employ carers directly. They match clients with carers and provide training but carers are paid directly by clients or their families. This care option is appropriate for those families able and keen to be more closely involved.
About The Live-in Care Hub
Founded in 2013, The Live-in Care Hub is a non-profit organisation committed to raising awareness of 24/7 care at home and, therefore, raising the quality of care in the UK.
As an impartial expert in live-in care, The Hub guides families through all the options and challenges the traditional view that residential care homes are the only answer.
All the Hub's care providers are also members of the United Kingdom Homecare Association. Both organisations share a vision to guarantee the very highest standards of care.