Does growing older have to mean we become isolated, lonely or unable to feel part of something? The number of people around us has no bearing on whether we feel lonely. Imagine being isolated at home, only visited by a carer once or twice a day or a fleeting family visit, or in a care home surrounded by people but still feeling disconnected. The loneliness can be overwhelming. Care homes can see our elderly surrounded by activity and people, yet surprisingly reporting loneliness at least double that of the community population. 22-42% of care home residents report feeling severely lonely.
How big a problem is loneliness?
The figures above themselves are not the issue. The issue is that we have elderly and older people feeling lonely at all. The report, however, also shows this to reduce to 10% for the community's population, supporting the view that having people around doesn't necessarily combat loneliness. Loneliness can also be caused by feelings of loss of identity, as the ability to live life as you wish slips away. Loneliness can also be tough to recognise, as this Campaign to End Loneliness reports, showing quiet acceptance often hides the loneliness and trauma brought on when faced with change. Failure to recognise and support loneliness in the elderly leads to physical and mental well-being issues, which can be prevented if recognised early and supported appropriately.
Age UK reports loneliness affecting 1.4 million people in the UK and seeks to guide policy and service provision to reduce this in the future. They are clear that simply addressing social isolation by increasing social contact is not the answer. We must ensure quality of the relationships if we are to address loneliness.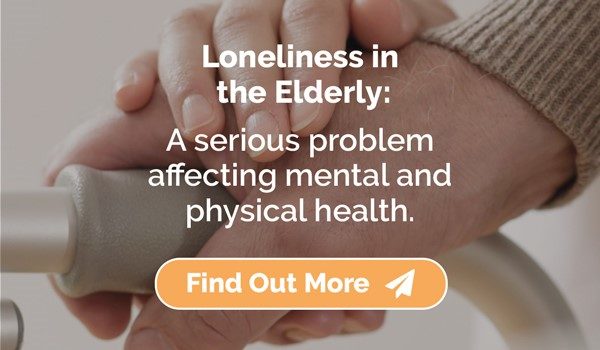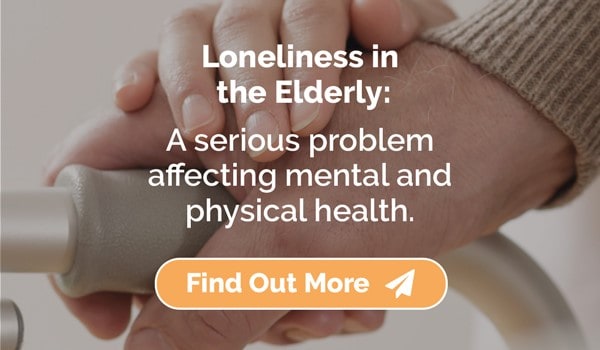 How damaging is feeling lonely?
Here at the Live-in Care Hub, we have always understood the damage feeling lonely causes to health and wellbeing. This isolation, especially for those in declining health, can be a transition that they find incredibly difficult to handle. They must receive support to overcome obstacles to friendships even when they choose to live at home.
Mental health is severely impacted by feeling lonely and so are many physical conditions such as raised blood pressure, high cholesterol and inflammatory response. Increased cortisol for prolonged periods can lead to anxiety, depression, heart disease and sleeping problems, alongside weight gain if lonely people turn to food as a comfort for boredom and isolation, all of which place extra strain on medical and care teams.
Having people around isn't always the answer
This isn't going to stop loneliness for many. Not everyone wants to be surrounded by lots of people. They need quality connections and more personalised, maybe one to one companionship. Moving older people into a care home may, therefore, combat social isolation, but it is not always the answer to loneliness.
How Live-in Care combats loneliness
Live-in care provides a companion as much as a carer. Choosing a carer that shares your interests is there to be a friend and enabler and carry out care duties, who has the time for you when you want, it is the kind of care quality that we should demand for our elderly to prevent the high cost that loneliness could have on their quality of life.