Every day over 8,000 people over 65 suffer a fall and the resulting fall-related injuries are a serious problem for older people. A third of people over 65 and half of all people over 80 fall at least once a year due to their frailty or underlying medical conditions. The resulting injuries are a major reason for elderly people requiring full-time care.
The worst falls result in hip fractures which pose a real threat of loss of independence with half of hip-fracture patients spending more than a month in hospital.
Data from the Better At Home Report indicates that people with professional live-in care will have fewer falls than those in a residential care home. This could be the result of being more active and sitting less, and having the one-to-one support to stay active and mobile.
Almost ONE THIRD fewer falls: Live-in care vs residential care and nursing homes.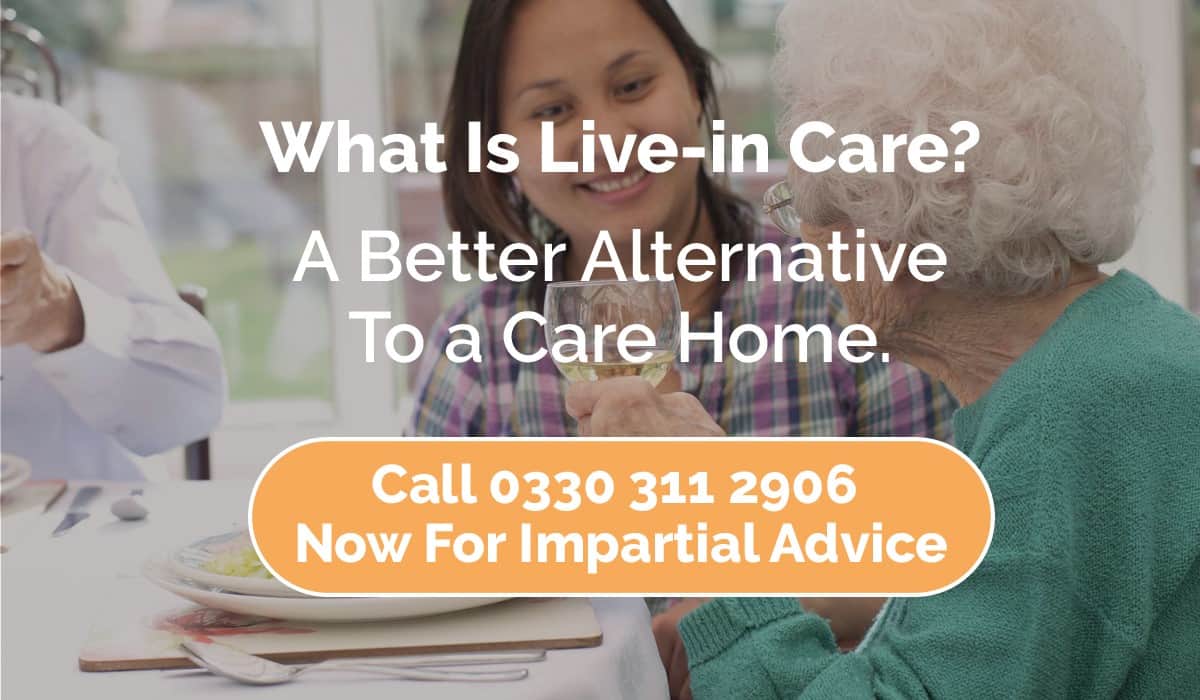 Why do older people fall?
Falls are more likely as people get older and are particularly associated with medical conditions such as dementia, Parkinson's or stroke.
They can also be caused by:
muscle weakness
lack of agility
not eating enough before bed causing low blood sugar in the morning
postural hypotension i.e. low blood pressure and dizziness when standing up
poor eyesight
inner-ear problems
sedation
psychoactive medication.
Urinary tract infections (UTIs) are also a cause of falls in older people as they can cause confusion and unsteadiness.
A live-in carer has the time to be vigilant to minimise falls but will also ensure their client has enough to eat and drink and will encourage them to be as active as possible to maintain strength and agility, which are some of the reasons why fewer falls happen with professional in-home care.
HALF as many hip fractures: Live-in care vs residential care and nursing homes.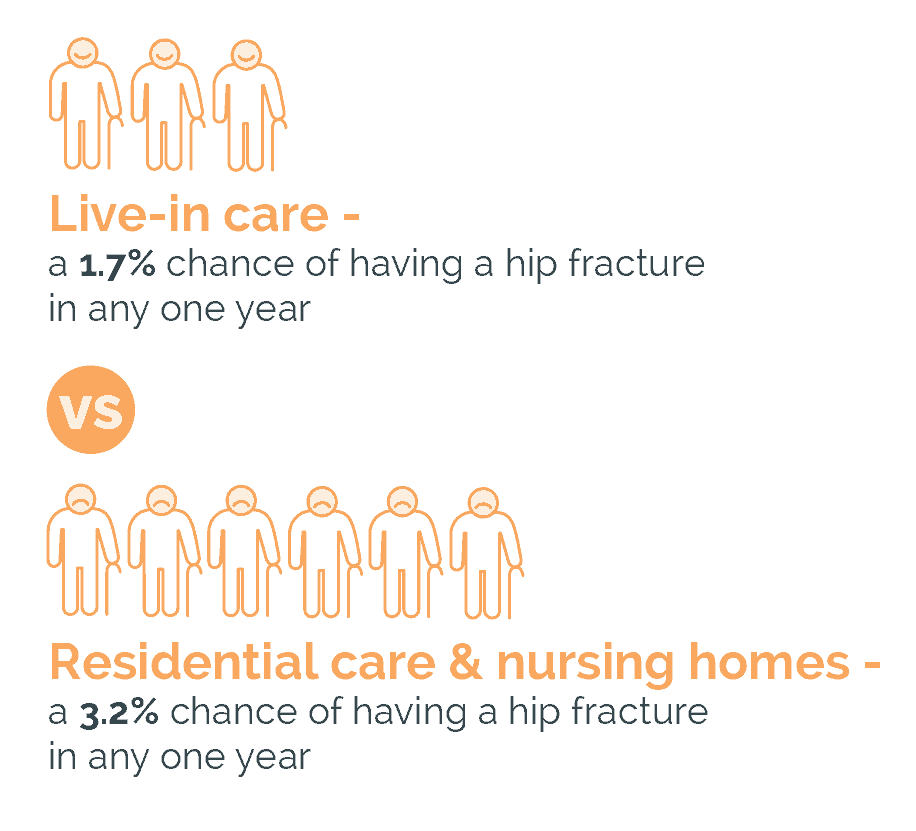 How To Avoid Falls:
Maintain and build muscle strength
Keep active to improve strength and balance and avoid fall-related injuries. Gentle exercise, such as a short walk or balance retraining like tai chi, is beneficial for the more mobile.
Reduce trip hazards
Make sure furniture, clutter and loose wires don't block routes through the house. Particulalry watch out for:
• Floor surfaces – wall-to-wall carpet is preferable and avoid mats and rugs. Keep wood floors dry and clean and remove raised thresholds.
• Lighting – ensure the house is well-lit, especially on stairs.
• Bedroom –falls often occur at night when people are disoriented in the dark. Ensure beds are a safe height and install rails near the bed to steady people. A bedside lamp that's easy to reach or a torch can also be handy.
• Bathroom – ensure all surfaces are non-slip, add hand rails and a shower seat.
Mobility aids
Consider a tripod with wheels and brakes or a walking frame. Stair lifts and a portable commode can also make life easier.
Become tech savvy
Automatic fall sensors can be worn around the neck or incorporated into watches and bracelets and can include remote monitoring.
Watch out for health changes
Keep an eye out for the common cause of falls and fall-related injuries: check for UTIs, ensure blood pressure is stable, medication is not having side effects and that eyesight prescriptions are up-to-date.