A significant increase in demand for elderly care is anticipated in the UK as the number of over 85s is expected to grow by 36% to around 2 million in the decade up to 2025, according to the Office for National Statistics
The Live-in Care Hub is a non-profit organisation passionate about promoting high quality in-home care for older people to meet this need so people can continue to live in their own home within a familiar local community.
Staying at home is, by far, the preferred option for most people and live-in care is a life-enhancing form of care available for a similar cost to a residential care home. 
If you, or a loved one, are facing the emotional decision of finding the right elderly care, read on to find out more about our independent research on why staying at home with a professional carer will result in better health and well-being, dignity, independence and enjoyment of life.
Our research includes data from a wide variety of sources including academic research and Government reports; and includes valuable insights and recommendations about financing later life care.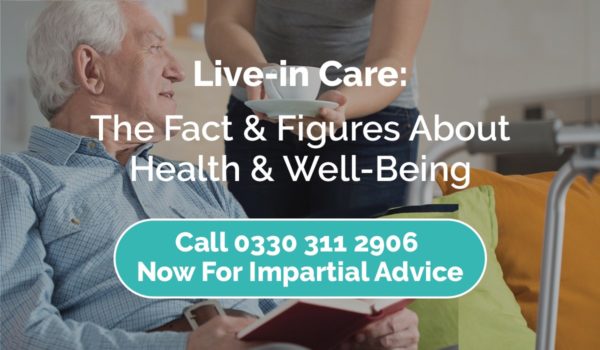 Lack of Planning for Care
The majority of people don't plan for their later life care so when illness or disability strikes an elderly relative their families often don't know who to turn to for help and reliable information about care choices. They find themselves in a crisis situation without the knowledge to make an informed decision. This can result in a rushed decision and the assumption that a residential or nursing home is the only viable choice.
There is an alternative to a care home
However, there is an alternative to a care home: live-in care in your own home with the help of a professional carer.
What is live-in care?
Live-in care is just what it says. Care in the home that enables an individual, or a couple, to stay in the comfort and familiarity of their own home where they receive one-to-one, high quality 24/7 support from a professional carer who lives with them.
In-home care services usually include: help with mobility and safety, personal care, medication, night time support, shopping, cooking, housework, pet care, admin, trips out and appointments, plus companionship and emotional support. Many carers are specially trained to cope with conditions such as dementia, stroke, MS, Parkinson's or palliative care. Find out more about Live-in Care.
Key benefits of Live-in Care
Live-in care provides peace of mind to the family of the elderly person. Their loved-one will remain in familiar surroundings, with treasured possessions, beloved pets, friends nearby, while at the same time receive the professional care they need. Carers are carefully matched with clients to ensure a successful relationship is established.
Each day is planned around the client and their own needs and preferences. Live-in homecare is about caring for the whole person, not just a health or mobility issue.
Live-in care fees are similar to those for a residential care home
Live-in care fees are similar to those for a residential care home, and are more cost-effective than a care home when a couple both need care.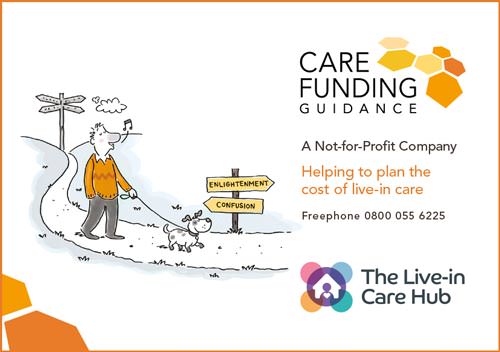 Choosing full time care
Deciding on senior care isn't easy, especially when it's needed urgently. Pressure to make a decision means people often accept care that is "good enough" instead of "perfect".
However, research from the world renowned Personal Social Services Research Unit (PSSRU), a collaboration between the University of Kent and the LSE reviewed price and quality across English care homes. These data, plus knowledge from the non-profit Live-in Care Hub combined with intelligence from a Care Homes Market Study identified the following 6 factors to consider when choosing senior care.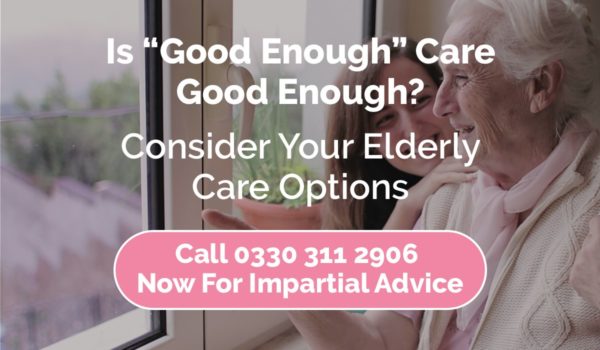 1. Personal Recommendations:
Ask friends and family for advice based on their own experiences.
2. Distance from home:
Some postcodes have only one or two care homes, which may not be suitable (for instance for someone with dementia) or have rooms available. Opting for a care home may mean moving away from a familiar area. Obviously, with live-in care this isn't an issue.
3. Value for money:
The research shows that live-in care is on a par with many care and nursing home fees, especially in the South East and London. More information about care costs can be found here.
4. Quality of care:
Good care should enable people to maintain the best possible quality of life, for as long as possible, but consider these 3 issues:
More than half of all residential care homes do not allow people to keep their pets. With live-in care pets remain part of the family.
More than a quarter of care homes don't allow residents leave the grounds. With live-in care, people are free to go out and about whenever they want – with the added support of their carer.
At 60% of care homes residents may have to move out if their condition deteriorates. With live-in care the services provided evolve to meet changing needs.
5. Cleanliness, friendliness and homeliness:
Most care and nursing homes are clean and comfortable, but it's the feeling of being at home that's hard to replicate in an institution. With live-in care a person is, quite simply, living at home and this is a key part of good health and well-being.
6. Staffing:
The ratio of residents to staff in a care home range from 1 carer to 3 residents up to 1 carer to 8 residents so one-to-one time is limited and usually no more than three hours a day. Live-in carers are there 24/7 to give individual, one-to-one, personalised care – a key reason behind the much lower recorded rates of falls and hip fractures with care at home.