A Class Care is an award nominated Care Agency that provides exemplary and high quality Live In and Night Care services across East Anglia.
We are a privately-owned care agency with over 20 years' care experience.
We were founded on the belief that we will care for our clients like our own parents and we recognise that the needs of our clients will always come first. Our mission is to work with our clients and their loved ones to ensure that people stay safely, comfortably and independently within the familiar surroundings of their own homes.
We work closely with our clients to ensure that they are happy and receive a service that meets their exact needs. This is the reason we offer a flexible, tailored-made and personalised care service. We recognise each person as an individual and offer a bespoke service that reflects this. The service that we offer range from Long Term 24 Hour Live In Care to short term respite care starting from 3 days per week.
"my mother came out from hospital at end of life approx 7 months ago. She was bedridden with complex needs. Through the help of a brilliant carer, she has worked with mum with getting her to eat, supporting her with all her personal care and supporting mum with her mobility. No not only this but the help and support in other areas far beyond that I expected. I myself was in a very dark place thinking my mothers time was coming to an end. My mum is now a different woman to how she was its amazing how she has progressed and hopefully will continue through continuity with her carer for the next level of her rehab  as we call it. I cannot thank A class enough for all the support given and sending ( carers name) to us, and that whoever training these carers to a very high standard we have been blessed by all of you" Miss  S. Cudman ( Email sent directly to the CQC)
A Class Care was founded after we found a short fall in the care standards. After working for a care agency for 15 years a decision was made to start an agency that would focus on providing quality care that would be suitable for our own parents.
Philosophy of care
We seek to deliver exceptionally high standards of care to individuals whilst respecting and promoting their dignity, choice and independence. The service we provide is built around the following core values:
Dignity – we ensure that everyone is treated with the upmost respect and consideration, at all times.
Choice – we endeavour to give you a wide range of options from which you are free to choose.
Independence – we support and encourage you to live the life you want.
Privacy – all care and support will be delivered discreetly and confidentially.
Involvement – we listen to the wishes of you and your family.
Equality and diversity – we respect individuality, different cultures and beliefs and seek to treat everyone fairly.
Person-centred approach – we assess your needs and put you at the centre of the process, ensuring your views and wishes are reflected in your care plan.
Areas of Specialism
The service that we offer is aimed at anyone over the age of 18. We specialise in Dementia, Parkinson's, MS, Cancer, Stroke Recovery, specialist care including PEG feeding, Stoma bag care, OT Led care, Palliative care, End of Life care, Respite care and post hospital discharge care.
Services offered:
Person centred care which incorporates a holistic approach to enabling our clients to stay living independently at home. The services that we offer can be anything from support with domestic duties including preparing meals, administering medication to complex nurse led care. We ensure that we design a service that is bespoke and meets the exacting needs of our clients.
Care model: Fully managed live-in care service
Geographical reach: Bedfordshire, Cambridgeshire, Essex, Suffolk, Norfolk, Norwich
100% of those surveyed said they would refer A Class Care  to their friends and family. 100% of those surveyed said that they were treated with Dignity & Respect
Do you need to arrange care for a loved one?
Speak to one of our experts today.
A Class Care Limited, Suite F16, Stirling House, Cambridge Innovation Park, Waterbeach, Cambridge CB25 9QE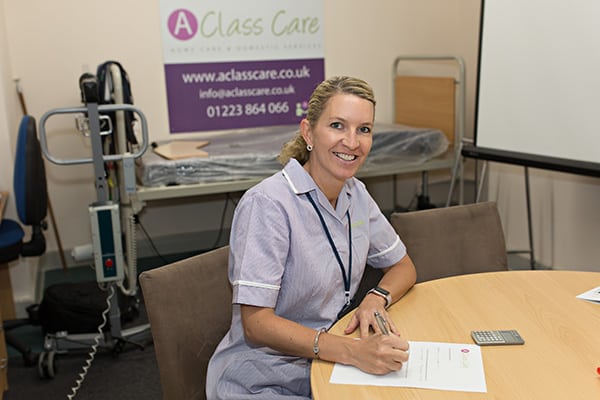 Recruitment
A Class Care has a specialist recruitment team that is overseen by the HR Operations Director that is SHL certified and with a BSC in Human Resources Management. We use a range of techniques to ensure that we recruit the best suited staff that have both the skills and competencies that provides a service to be proud of. All applicants are required to go through a vigorous screening process and a robust diligence check. We stand by our moto if it is not good enough for our parents its not good enough for yours.
Want to apply? Send us your details...